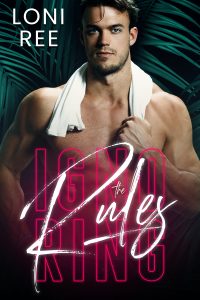 Steam Level: (Ranked from 1 to 5, as noted by the author): Steam Level 4
His best friend's little sister is all grown up, and she's the most stunning woman he's ever seen. He needs to make her his, but that's against the rules…
There's a code between friends. A line drawn in the sand. A set of rules you never go against. Sleeping with your best friend's sister is one of them.
Not that I want to sleep with her. No. What I want goes far deeper than that.
It's been years since I've seen Bianca Russo. She was the cute pigtailed kid sister who'd hang around and drive us guys nuts. But that was years ago. I left for college and never looked back. It isn't until I wander into a random bar that I see her again, all grown up, and walking toward me like a dream.
I've never been the kind of guy who believes in love at first sight, but one look at the woman she's become, and I want her in every way there is. No. I need her.
Get Ignoring the Rules at Amazon
Have you read this book or another by this author? Tell us about it in the comments!
All information in this post was provided by the author and is not altered. We do this so that you the reader can decide to buy a book based on what the author says and how they present themselves and their book.