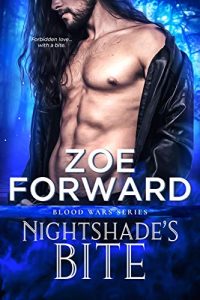 Steam Level: (Ranked from 1 to 5, as noted by the author): Steam Level 4
Kiera Rossard's secret life just got complicated. When not being a vampire aristocrat she's leader of the Nightshade League, a rebel vampire society that rescues werewolves during the interspecies war. Everyone wants her dead—vampires and the werewolves who don't know her secret. Starting with the wolf she just saved—Michael Durand, the most vicious killer of her kind in existence. Something about the notorious werewolf sets her blood on fire.
She's not good at resisting temptation. So what if vampires always bite when they're turned on? And so what if one drop of his blood will kill her? What's life without a little risk?
Michael doesn't like vampires. At all. But now he's losing his mind over the dark desire Kiera stirs in him. He should plot her death. Only, she's hot and mouthy. Staying near her a bit longer is irresistible. When unforgiving forces hone in on her secret identity, he must decide between duty to his people and protecting her. But if he stays, who will protect her from him?
Get Nightshade's Bite at Amazon
Get Nightshade's Bite at Barnes and Noble
Have you read this book or another by this author? Tell us about it in the comments!
All information in this post was provided by the author and is not altered. We do this so that you the reader can decide to buy a book based on what the author says and how they present themselves and their book.