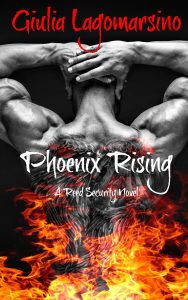 Steam Level: (Ranked from 1 to 5, as noted by the author): Steam Level 4
Phoenix Rising is book 16 in the Reed Security Series and it is suggested they be read in order.
The men and women of Reed Security are back, but after all the turmoil of the past year, how do they adapt and move forward. For some, it's easy, but others, the past year is only the beginning of what they will have to deal with. Some of them were shot and almost died. Morgan and Chance were taken and tortured in their own respects and now must deal with the after effects. Payton was torn from her mother and spent a year and a half without her. The wives lost their jobs and many had to run from their families and friends to keep them safe. But one thing remained the same through all of this, they are each others' family and will do anything to help each other through. They are Reed Security, and they will rise from the ashes.
"Alexa, play Sam Tinnesz."
I waited as it was searching and cringed when Mmm Bop by Hanson came on.
"What the f@$k? Alexa, play Legends Are Made by Sam Tinnesz."
Alexa searched again, this time playing John Legend.
"You've got to be f@$king kidding me. I just want something good to listen to. Alexa, play Hold On For Your Life by Sam Tinnesz," I said slowly, accentuating every word.
"Searching…."
And then the opening strands of Celine Dion's My Heart Will Go On started to play.
"F@$k it." I sloshed back down in the water, trying to ignore the girly song that was playing while I was trying to relax. I actually found that it was working. The soothing melody had me sinking into such a relaxed state that I didn't even notice the door opening.
"What the hell are you listening to?" My eyes flew open in surprise. Chris was standing in the doorway with a smirk on his face. "Want me to get you a cocktail?"
"Actually, I'd love one," I retorted. "I tried to get the f@$king thing to play something else, but like any woman, she just did whatever the f@$k she wanted."
"Alright, let's see what we got here." He walked over to a mini-fridge in the corner. I had expected to find water, but instead saw some kind of girly cooler.
"Toss me one."
Chris popped the top and handed one to me and then got one for himself. After draining half of it, he got undressed and got in with me. "Is this weird?" he asked as he settled in.
"Sitting in the hot tub together?"
"Yeah. You know, it's kind of like bathing together. You're sweaty. I'm sweaty…."
I nodded. "I gotcha." I reached over to the ledge and grabbed a bottle of body wash, pouring in a generous amount. Bubbles filled the tub and I grinned, pleased with myself.
"Yeah, that's not at all weird," Chris muttered. "Now we're taking a bubble bath together."
"But we'll be clean," I pointed out. "What's worse? Sitting around in each other's filth or sitting in soap together?"
"Soap is only clean as long as it's in the bottle. Once it's in the water, it's just dirty soap."
"It's self-cleaning."
"Oh, God." Chris and I turned to see Jules standing in the doorway with Alec and Rocco. "Are you two taking a bubble bath?"
"It's a hot tub," I corrected. "The bubbles are just to get us clean."
"That's what a shower is for," Jules pointed out.
"Hot tubs are very good for the muscles," Rocco said as he yanked off his shirt. "I'm in."
Have you read this book or another by this author? Tell us about it in the comments!
All information in this post was provided by the author and is not altered. We do this so that you the reader can decide to buy a book based on what the author says and how they present themselves and their book.