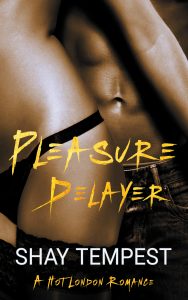 Steam Level: (Ranked from 1 to 5, as noted by the author): Steam Level 3
You see, the problem with pleasure delaying is that … well … you have to wait for things.
Another hot London romance standalone brimming with love, story, and steam.
Kim
I've never been one to delay pleasure. Or at least, I wasn't, before I became a hotshot advertising executive. Now, I don't have time for pleasure. Not until I meet Aiden, a brooding blues guitarist, who practises pleasure delaying and has the tattoo to prove it.
The only problem is, delaying pleasure with Aiden is the last thing on my mind. He drives me wild.
Aiden
The moment I see Kim, any idea of delaying pleasure vanishes. That is until she asks about my tattoo and what it means. I introduce her to the world of cold showers, obstructed gratification, and pleasure delaying.
Now I've met Kim, I wish I'd never heard of pleasure delaying. She drives me wild.
Contemporary erotic romance for readers over the age of 18
The Shay Tempest Promise
An enjoyable, romantic story
Steamy sex scenes
Consensual sex
No cliffhangers
A happy-ever-after
Get Pleasure Delayer at Amazon
Have you read this book or another by this author? Tell us about it in the comments!
All information in this post was provided by the author and is not altered. We do this so that you the reader can decide to buy a book based on what the author says and how they present themselves and their book.