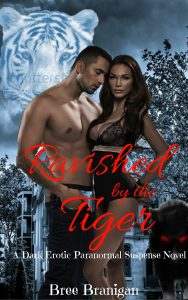 Targeted Age Group:
Steam/Violence Level: (Ranked from 1 to 5, as noted by the author): Steam Level 4
Do you like steamy love scenes, intrigue, action and suspense? Then these are the books for you!
Is he a malicious beast … or just a sexy bar-tender … or neither …?
Thomas, a high-ranking leader in a shifter's coven, enjoys his luxurious life amongst humans.
Jana, tough and independent; is dedicated to her job as a homicide detective. She doesn't do relationships, preferring one-night-stands. Then she meets Thomas; dominating, possessive and irresistible. Sparks fly.
But when the clan condemns Jana for the death of one of their own, Thomas must betray his clan to protect her. Intent on vengeance, the powerful shifters are tenacious. What begins as intense lust becomes a desperate struggle for life and for love.
PLUS: HOT paranormal romance novellas, delivering hours of titillating reading. All are HEA with no cheating and no cliff-hangers. Suitable for adults only.
Get Ravished by the Tiger at Amazon
Have you read this book or another by this author? Tell us about it in the comments!
All information in this post was provided by the author and is not altered. We do this so that you the reader can decide to buy a book based on what the author says and how they present themselves and their book.