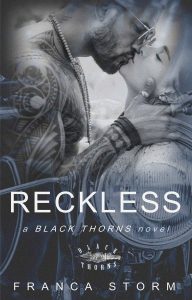 Steam Level: (Ranked from 1 to 5, as noted by the author): Steam Level 5
A jaded biker on a mission.
A strong woman who hates bikers.
When these two lost souls collide, all bets are off.
Neil "Ax" Barron walked away from the Black Thorns MC two years ago. Now he's back as Vice President for one reason. To take out the President of ruthless rival club, the Devil's Mavericks. A sadistic, soulless man who is also his father. Ax has his orders to carry out his mission covertly so Black Thorns isn't thrust into open war. But when he meets his contact, a tough, ball-busting woman, he quickly realizes he's got his work cut out for him.
Roxana James hates bikers and a relationship is the last thing she wants. Settling down is her worst nightmare. No man will tame her! She's content on her own and she's done well for herself. Until a rough, dirty-talking biker turns her world upside down. He challenges everything she's ever known.
Together, they break down one another's walls. Two opposites really do attract. The fiery connection between them quickly evolves into much more, despite resistance from them both.But, with so many forces aligned against them, and Rox determined not to become part of Ax's club life, is there really a place for their love? Or, will the sacrifices needed for them to be together, come at too high a price?
Get RECKLESS (Black Thorns, #1) at Amazon
Have you read this book or another by this author? Tell us about it in the comments!
All information in this post was provided by the author and is not altered. We do this so that you the reader can decide to buy a book based on what the author says and how they present themselves and their book.