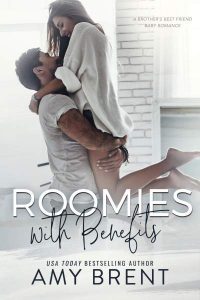 Steam/Violence Level: (Ranked from 1 to 5, as noted by the author): Steam Level 4
She needed a fake fiancé. I needed a roommate.
But now I want more than benefits…
There's nothing fake about my love.
I only wanted to help her. Abigail is my best friend's little sister.
Hot, sassy, and down on her luck. So, I took her in.
Now I can't stop thinking about her. Watching her. Wanting her.
Her sinful curves play with my mind.
But she's off limits.
Her psycho ex is back, and he won't take no for an answer.
She needs a fake fiancé to get rid of him,
But there's nothing fake about my feelings.
Abigail's more than just a roomie with benefits.
If her ex touches her, I'll show him more than just the door.
I don't need a weapon to maim, all I need is my fists.
Abigail thought it was all fake… it's time to show just what's real.
Get Roomies with Benefits at Amazon
Have you read this book or another by this author? Tell us about it in the comments!
All information in this post was provided by the author and is not altered. We do this so that you the reader can decide to buy a book based on what the author says and how they present themselves and their book.