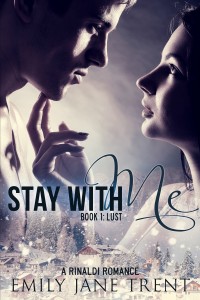 Targeted Age Group:
Steam/Violence Level: (Ranked from 1 to 5, as noted by the author): Steam Level 4
Free book – first in series! Kyra Walsh is swept off her feet by charming Stephano, who is determined to find out what she is running from. He wants to protect her. But she mistrusts men, and sees no reason the sexy photographer should be any different. She should turn away, but a taste of him is addictive. One hot interlude leads to another. Each time the sex is hotter than before. Yet she knows there is no future for them.
Get Stay With Me (Book 1 Lust) at Amazon
Get Stay With Me (Book 1 Lust) at iTunes
What format is this book in? eBook, Print Book, Audiobook
Have you read this book or another by this author? Tell us about it in the comments!
All information in this post was provided by the author and is not altered. We do this so that you the reader can decide to buy a book based on what the author says and how they present themselves and their book.