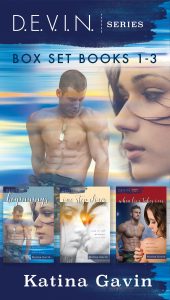 Steam Level: (Ranked from 1 to 5, as noted by the author): Steam Level 4
Beginnings – Angel has just one assignment left, and when the investigation of a double homicide leads him to Lindsey's door, he knows that she's the one.
One Step Closer – Joe Running Deer has spent the last thirteen years in the SEALs and loved every minute. He has also loved Sydney Wheeler for almost as long. He's decided to give her what she wants but when he returns from his last mission, she's gone.
When Love Takes Over – A virtuous, heartbroken marine. A romance-hungry virgin. Do they have to pick and choose between love… and lust?
Get The D.E.V.I.N. Series Books 1-3 at Amazon
Have you read this book or another by this author? Tell us about it in the comments!
All information in this post was provided by the author and is not altered. We do this so that you the reader can decide to buy a book based on what the author says and how they present themselves and their book.