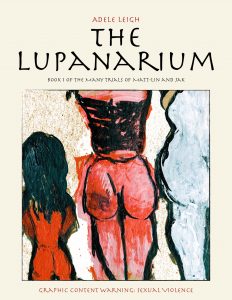 Steam/Violence Level: (Ranked from 1 to 5, as noted by the author): Steam Level 4
The Lupanarium by Adele Leigh is a darkly erotic, gripping adventure about two enslaved prostitutes in a fictionalized Ancient Rome who are conditioned to eat and sleep only after giving or receiving an orgasm. The heroine is a surly, teenage badass with a penchant for knives. The hero is the world's greatest male prostitute, famous for his skills in the bedroom and the arena.
The story begins when the heroine, Matt-Lin, is sold to the Lupanarium, a corporate brothel in the capital that pimps out tens of thousands of bodies a day. She is the only living survivor of all of the 9 trials, a series of physical and psychological tortures that obliterates a person's identity. She has no memory of her life before. Her first assignment is to perform a dangerous live sex act in the arena with Jak, the most profitable and panty-dropping sex slave in the Empire. Jak sees promise in the girl's abilities, but she proves unwilling to submit as she vigilantly seeks a way to escape, putting her life, and his, in danger. The Lupanarium is the first book in The Many Trials of Matt-Lin and Jak, a series, told with heart and humor, about a relationship built in brutal times.
The book is socially relevant, examining topics like rape culture and giving agency to characters that have none as it sheds a scathing and satirical light on those who abuse their power. Despite the dark subject matter, the book is always one of survival and hope, while exemplifying the healing nature of friendship, family, and love.
Have you read this book or another by this author? Tell us about it in the comments!
All information in this post was provided by the author and is not altered. We do this so that you the reader can decide to buy a book based on what the author says and how they present themselves and their book.