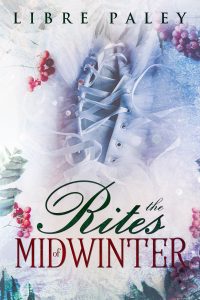 Steam/Violence Level: (Ranked from 1 to 5, as noted by the author): Steam Level 4
Gabriela has spent one month with István, her heart's love, when winter arrives, her life at the Castle a few miles but a world away from her modest upbringing. Yet her bliss is shattered when István is called away, promising Gabriela to return for their planned Midwinter wedding. Not even her blossoming erotic powers can persuade him to stay.
Unable to reveal the real reason for his journey, István has arranged for close friends to support Gabriela in his absence. She is already well acquainted with Alexandrine and Georg. The two undertook Gabriela's first schooling in amorous pleasures when she arrived to the Castle, to assure themselves she would suit István's every requirement as his wife.
Despite pining for István, Gabriela is happy for the pair to continue their carnal education of her. She learns to test her own limits as her companions make her the erotic centre of their attentions in a series of fulfilling lessons. New arrivals join them, including the charismatic and flirtatious Captain James Francis, whom Gabriela likes just a little too much…
The weeks settle into a thrilling pattern of voluptuous days and nights of carnal pleasures. But as time passes with not a word from István, Gabriela grows unsettled. Not only do shadows of doubt about his love for her gather, the mystery of a certain locked room begins to create unease in her mind.
Get The Rites of Midwinter at Amazon
Have you read this book or another by this author? Tell us about it in the comments!
All information in this post was provided by the author and is not altered. We do this so that you the reader can decide to buy a book based on what the author says and how they present themselves and their book.