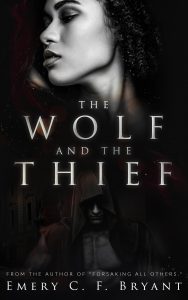 Steam Level: (Ranked from 1 to 5, as noted by the author): Steam Level 3
Amirah's life is turned upside down when she finds herself not only witness to a heinous act committed by notorious crime boss Hugo DeFonza, she's also become an unintentional accomplice.
She flees when she discovers the truth, foolish enough to believe she can. Absolutely no one defies Hugo DeFonza.
Enter El Lobo, The Wolf, the elusive creature of a man who seems to exist only in nightmares and dreams.
His attempts to end the life of the man he hates the most brings Amirah directly into his path, and knowing the fate of any woman caught in DeFonza's crosshairs, El Lobo offers her his protection while buying her time to formulate a plan of escape.
While his protection is appreciated, his brusque and dangerous aura concerns her. However, one thing takes precedence over this fear she has for him—her intense desire.
Get The Wolf and The Thied at Amazon
Have you read this book or another by this author? Tell us about it in the comments!
All information in this post was provided by the author and is not altered. We do this so that you the reader can decide to buy a book based on what the author says and how they present themselves and their book.