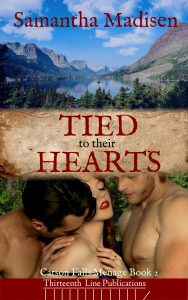 Steam/Violence Level: (Ranked from 1 to 5, as noted by the author): Steam Level 4
Molly comes to Carson Falls at her friends invitation. The town has been transformed from the rough and tumble place it once was and she's thrilled to see her old friend Autumn again, despite the strangeness of her arrangement, living and married to two men.
From the moment they lay eyes on Molly, Sam and Drake know immediately she is the woman for them. They set to showing her what life will be like married to the both of them.
Molly quickly falls under their dominant and commanding spell. Sam and Drake know what they want from a women and aren't shy about telling her. She soon finds herself over their knee, suffering a painful but arousing spanking. Their masterful lovemaking, and Sam's love of tying a woman, open Molly's heart and mind to the possibility of this new life.
But trouble stirs when a posse of men arrive to disrupt their wedding, disapproving of the Carson Falls lifestyle. Will the town rally to help?
Get Tied to Their Hearts at Amazon
Get Tied to Their Hearts at Kobo
Have you read this book or another by this author? Tell us about it in the comments!
All information in this post was provided by the author and is not altered. We do this so that you the reader can decide to buy a book based on what the author says and how they present themselves and their book.