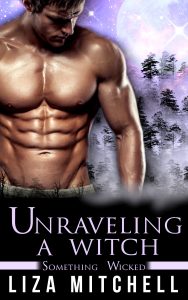 Steam Level: (Ranked from 1 to 5, as noted by the author): Steam Level 4
You can tell me to stop."
Her shoulders ached,
but she didn't make a sound.
Eileen is unsettled by the stranger across the bar. His size is intimidating… and exciting. She is bored with her small town life and weighed down by her responsibilities, and he might be the escape she is looking for.
Cain cannot take his eyes off of Eileen. Her dark eyes and teasing curves are captivating. Dominance comes naturally to him, but first, he must convince this headstrong witch to submit.
Their chemistry is undeniable. But Eileen cannot ignore the brutal attacks that coincide with Cain's arrival. When the assaults hit too close to home, Eileen must decide if she can trust Cain with her safety… and her obedience.
Is this strong, demanding wolf what she's been looking for all along?
Get Unraveling a Witch at Amazon
Have you read this book or another by this author? Tell us about it in the comments!
All information in this post was provided by the author and is not altered. We do this so that you the reader can decide to buy a book based on what the author says and how they present themselves and their book.