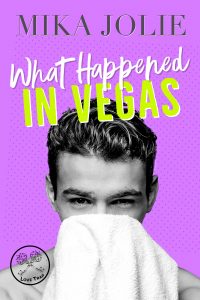 Steam Level: (Ranked from 1 to 5, as noted by the author): Steam Level 3
Whoever said what happens in Vegas stays in Vegas is a damn liar.
I've done everything I can to try to forget Mr. Last-Name-Unknown—and his dig at my job as a social media influencer.
But forgetting his words, or more importantly, the attraction we shared pre-insult seems nearly impossible. Especially when I end up stuck in an elevator with him in NYC. And he's infuriatingly gorgeous—wearing a suit that looks like it was made specifically for him. It probably was.
Sparks definitely fly—only it isn't just anger. The attraction we felt in Sin City still sizzles between us. And his abs of steel and killer smile are definitely affecting my lady parts.
I probably shouldn't forgive him. Besides, I'm leaving in a few days… Yet, the silver-tongued lawyer manages to work his way back into my good graces…and into my bed.
So, can what happened in Vegas lead to forever in New York?
Author's Warning: What Happened in Vegas is a delicious lovers to enemies and back to lovers that will give you all the feels. It's filled with scorching banter, sexy scenes, and several laugh-out-loud moments. No cheating. No cliffhangers. Guaranteed HEA. Scroll up and one-click your copy today!
Get What Happened in Vegas at Amazon
Have you read this book or another by this author? Tell us about it in the comments!
All information in this post was provided by the author and is not altered. We do this so that you the reader can decide to buy a book based on what the author says and how they present themselves and their book.