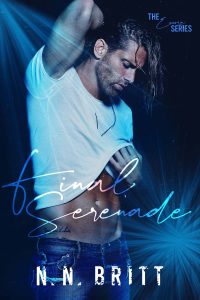 Steam Level: Steam Level 4
Category: Contemporary
About Final Serenade:
A secret affair with your teenage celebrity crush? Yes, please!
Music journalist Cassy Evans believes her career is made when she snags an exclusive interview with rock singer Frankie Blade.
Once a superstar of the generation, Frankie has been a recluse since a freak motorcycle incident sent his own career into a tailspin seven years ago. Now that he's returned to claim back his crown, Cassy hopes to kill two birds with one stone—secure her magazine a top spot in the rankings and meet with the man of her adolescent dreams.
A dinner invitation isn't what she expects to get out of this interview, but the chemistry between them is undeniable.
With paparazzi watching Frankie's every move as the two jump into a stormy relationship, Cassy risks her professional reputation and her privacy—and possibly her heart—to be with the biggest rock star on the planet. But is Frankie worth it? Is he the humble man she thinks he is or is he just that good at hiding his demons?
Purchase Print Books
Buy Final Serenade Print Edition at Amazon
Buy Final Serenade Print Edition at Barnes and Noble
Links to Purchase eBooks
Link To Buy Final Serenade On Amazon

Disclaimer: All information for this book was submitted by the author and is presented as is so you get to know the author and their style. Prices are subject to change.