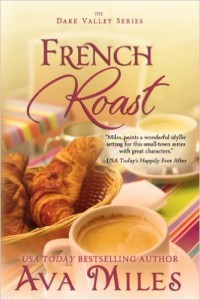 Steam:: Steam Level 4
Over one million readers have fallen in love with Ava's bestselling Dare Valley and Dare River series…come join the family.
Fans who like the family dynamics of the Sullivans by Bella Andre, the small town charm of Cedar Cove by Debbie Macomber, and the sweet romance of Fool's Gold by Susan Mallery will enjoy Ava Miles.
USA Today Bestselling Author Ava Miles of the #1 National Bestseller NORA ROBERTS LAND presents a coming of age and friends-to-lovers story with New Adult and foodie flavor in her bestselling small town series, Dare Valley. A Reward of Novel Excellence Nominee by InD'tale Magazine. Top 100 Bestsellers List for Amazon Kindle.
"I am adding Ava Miles to my list of always reads like Susan Mallery, Jill Shalvis, Kristen Ashley, and NORA ROBERTS." Marjay's Reading Blog
Small-town biz wiz Jill Hale has been in love with her childhood best friend Brian McConnell for as long as she can remember. A falling out led to years of estrangement, but when Brian returns to Dare Valley after trying to make it big as a chef in New York City, Jill's determined to make amends. She's convinced that starting a restaurant together will be the perfect win-win situation, allowing her and Brian to work together and play together.
After a series of missteps sliced and diced Brian's career in the Big Apple, he came home to regroup and find himself. He's convinced that reestablishing his connection with Jill, the girl who got away, will put his life back on track. And when she approaches him with her plan for going into business together, he's certain it's the one way he can have it all-his dream job and his dream girl.
Jill and Brian are falling for each other all over again when Brian's ex sashays into town, intent on sabotaging their reunion. Add in a mysterious investor who's determined to get Jill on board with his project, and the bond between the couple is tested to the limit. Will their second chance at love implode, or will they find their own recipe for a happy ending? (love story, contemporary romance, alpha males, heroes, new adult, women's fiction, falling in love)
Author's Note: All books can easily be read as stand-alone stories.
The Dare Valley series:
NORA ROBERTS LAND
FRENCH ROAST
THE GRAND OPENING
THE HOLIDAY SERENADE
THE TOWN SQUARE
THE PARK OF SUNSET DREAMS
THE PERFECT INGREDIENT
THE BRIDGE TO A BETTER LIFE
DARING BRIDES (a short story collection)
DARE VALLEY MEETS PARIS BILLIONAIRE MINI-SERIES ~ coming Summer 2015
THE CALENDAR OF NEW BEGINNINGS ~ coming soon
The Dare River series (connected to Dare Valley):
COUNTRY HEAVEN
COUNTRY HEAVEN COOKBOOK
COUNTRY HEAVEN SONG BOOK
THE CHOCOLATE GARDEN
THE CHOCOLATE GARDEN: A MAGICAL TALE (a children's book companion)
FIREFLIES & MAGNOLIAS
THE PROMISE OF RAINBOWS ~ coming Fall 2015
The Once Upon a Dare series (connected to Dare Valley):
THE GATE TO EVERYTHING ~ coming soon
Get French Roast at Amazon
Get French Roast at Barnes and Noble
Get Audiobook
What format is this book in? eBook, Print Book, Audiobook
Have you read this book or another by this author? Tell us about it in the comments!