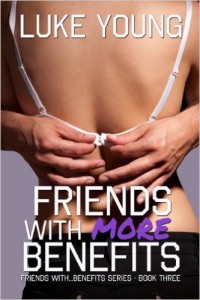 Steam:: Steam Level 4
For a limited time pick up book one AND book three for FREE and book two, Full Benefits, at a special price!
Friends With More Benefits is the third book in the Friends With Benefits series and although the stories are connected, they can be read on their own. Book three features summaries of the first two series books and is a great introduction to the hilarious and complicated world of Jillian and Victoria.
Victoria, Jim, Brian, Jillian, Rob, Laura and Caroline are back with more eye-opening revelations, steamy triangles and sexy surprises in the third book in the best-selling Friends With Benefits series.
As Jillian and Brian's destination wedding date nears, Jillian's just released novel's complicated success threatens to destroy their big day. While Rob's new job grows extraordinarily more mysterious Brian's becomes infinitely more unfulfilling and both struggle to find the answers. Victoria finds it more and more difficult to hide her secrets and when they are finally exposed there is no shortage of collateral damage. When thoughts are revealed will the wedding be ruined, will Jillian's career survive and will everyone forgive Victoria?
NOTE: Recommended for readers 18+. This book contains explicit language, sexual content, slightly inappropriate humor and is recommended for mature audiences who like that sort of thing.
Get Friends With More Benefits at Amazon
Get Friends With More Benefits at Barnes and Noble
Get Audiobook
What format is this book in? eBook, Print Book, Audiobook
Have you read this book or another by this author? Tell us about it in the comments!