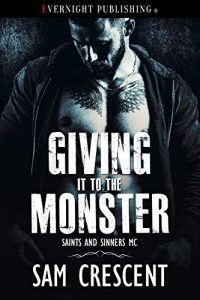 Steam: Steam Level 4
There has only ever been one woman Saint has ever loved, and she left him because he was turning into a monster. To lead the Saint and Sinners MC, he had to follow his dad's rules. So Saint let Natasha go and embraced the club. At last, with his dad dead and gone, Saint was able to turn the club into something to be proud of, but he had lost the person who meant the most to him.
Then one night, Natasha returns to Sinners' Corner. She falls into Saint's arms, broken and bloody, and he has the chance to save her.
Natasha has always loved Saint, and walking away from him was the hardest thing she ever did. Now, though, the only person she can trust is Saint, the man she once ran from. She knows he'll take care of her and help her keep her abusive husband away. Finally, Natasha sees past the monster Saint portrays to the man he's become.
Is there a chance for them to have the future she always wanted, a future they both planned? Can two heartbroken souls finally find the happiness they deserve?
Get Giving It to the Monster (Saints and Sinners MC Book 4) by Sam Crescent at Amazon
Have you read this book or another by this author? Tell us about it in the comments!