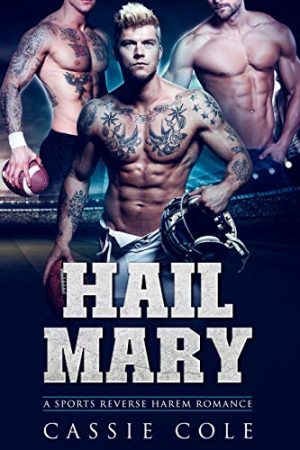 Steam: Steam Level 5
In Texas, football is a religion.
Which makes Colt McAllister a god.
The star of the Fort Worth Frenzy could have any woman he wants.
But for some reason he has his eye on me.
And he's not the only one.
His two suave teammates want to share me too.
DJ Buchanan is the goofy blond athlete who's quick with a joke.
It doesn't hurt that he's covered with chiseled muscle, either.
Despite his athletic exterior, Kody Murphy is quiet and studious.
And I'm the only one he'll open up to about his troubling past.
It's my job to spend as much time with them as possible.
Interviewing them in the locker room…
…and getting extra personal off the field.
Can Colt, DJ, and Kody lead their team into the AFL playoffs?
And will our sultry relationship last that long?
HAIL MARY is a sizzling reverse harem love story filled with humor, suspense, and athletic action. HEA guaranteed!
Get Hail Mary by Cassie Cole at Amazon
Get Audiobook
Have you read this book or another by this author? Tell us about it in the comments!