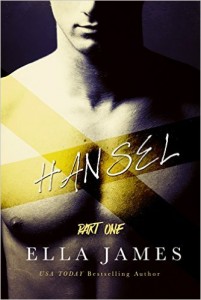 Steam:: Steam Level 4
FROM USA TODAY BESTSELLING AUTHOR ELLA JAMES…
One boy. Mother calls him Hansel.
One girl. Mother named her Gretel.
Locked in little rooms, in the mountainside mansion of a crazy woman.
Until he saws a hole into the wall dividing them.
Then at least, they have each other's hands.
It doesn't end well at Mother's house.
Everything gets…broken.
Ten years later, they meet again in an exclusive Vegas sex club.
Whips.
Chains.
And most of all, a mask.
What happens to love when it gets twisted?
Fairy tales are cautionary tales, remember?
*This is a dark, erotic romance featuring themes some readers might find disturbing. If you don't enjoy dark romance, it may not be for you.
*This is part one in a four-part serial novella series. All four parts are completed.
Get Hansel Part 1: An Erotic Fairy Tale at Amazon
Get Hansel Part 1: An Erotic Fairy Tale at Barnes and Noble
What format is this book in? eBook
Have you read this book or another by this author? Tell us about it in the comments!