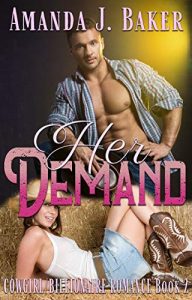 Steam: Steam Level 5
Will the game of sex, lies, and whiskey stains continue? Or will this billionaire fess up that he really isn't a cowboy?
When Brent wakes up to find Alyssa gone it doesn't take him long to figure out why. The text from his ex doesn't just rattle things up between the two, it also reminds Brent that he can't stay and play cowboy forever. And the more he learns about the cowgirl, the more convinced he is that she's the one for him. So he comes up with a plan that will benefit both Alyssa and himself.
More upset with believing she had been lied to than thinking there was another woman, it doesn't take much for her to forgive the new cowboy of her dreams. But Alyssa may not be a one man type of woman. Isn't that every man's dream? But, in reality, is it something that Brent will be open to?
Once the new couple gets things straightened out in the bedroom, other obstacles still remain. Will the two end up with a happily ever after? Or just another wham, bam, thank you ma'am? Find out more in the second book of this cowgirl and billionaire love story.
Get Her Demand – Cowgirl Billionaire Romance Book 2 by Amanda J. Baker at Amazon
This book is part of a series
Have you read this book or another by this author? Tell us about it in the comments!