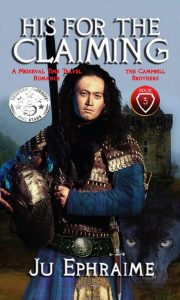 Steam Level: Steam Level 4
Category: Historic Medieval
About His For The Claiming:
Tristan (Tris) Campbell accepts the fact that his brother came back to them from the land of the fae. He accepts that life in the Highlands with his clan is fraught with strife and danger, and that they will be forever warring with opposing clans. What he doesn't expect is that like his brother Alasdair, he, too, will have to travel through time to find his one true love.
Lady Brianne O'Connor has vowed never to take a husband, and as her father's only child and heir, he allows her to live as she pleases. She caught the attention of a member of Clan Campbell, and although she resists in the beginning, they are soon married. When her new husband is murdered, Lady Brianne finds herself caught in a grief that won't let up. She spends her days and nights in her bedchamber at Kilchurn Castle, weeping and mourning him.
It was this grief that touches Tristan across the centuries and draws him to her. He must find a way to connect with her. He is convinced he knows her, but he can't recall from where. He will not rest until he can feel her in his arms.
https://www.youtube.com/edit?o=U&video_id=JwjM5WFzTSg
Purchase Print Books
Buy His For The Claiming Print Edition at Amazon
Buy His For The Claiming Print Edition at Barnes and Noble
Buy His For The Claiming Print book for sale at CreateSpace
Links to Purchase eBooks
Link To Buy His For The Claiming On Amazon
Link to His For The Claiming on Barnes and Noble/Nook
Link to His For The Claiming for sale on Apple iBookstore/iTunes
Link to His For The Claiming for sale on Kobo

Disclaimer: All information for this book was submitted by the author and is presented as is so you get to know the author and their style. Prices are subject to change.