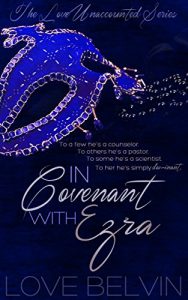 Steam: Steam Level 5
He's an Oxonian, licensed therapist, and man of faith, preparing to take over the largest Pentecostal church in New York.
She's an around-the-way girl from Harlem, struggling with three jobs and school to make ends meet for so many.
So, what could they possibly have in common? Find out how Ezra Carmichael and Lex Grier make a covenant, creating a sphere for both their worlds to harmonize.
Disclaimer: This series is for mature audiences ONLY. There are three installments to the "Love Unaccounted" series. This installment is a full-length novel that contains profanity, erotica, acts of bondage, domination, and violence. It ends on a cliffhanger. If you do not like dark, racy romance between your pages this book is not for you.
Get In Covenant with Ezra (Love Unaccounted Book 1) by Love Belvin at Amazon
Have you read this book or another by this author? Tell us about it in the comments!