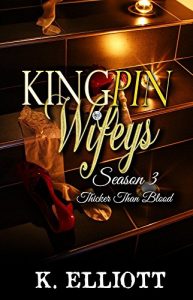 Steam: Steam Level 4
Now that Black has been murdered, the gang is left to pick up the pieces and find out who murdered him. Shamari is finally free and now faced with a decision: Will he turn back to the streets? Starr is armed with new information about Q's involvement in Trey's death and she is determined to cut him off but how? Enter Stunna a tall, dark and extremely confident hustler from the streets of Atlanta. He wants Starr to be his lady but not if his Sister Mickey can help it. Fresh is on the run and he wants Jada to help him. Jada is faced with a choice between Shamari and Fresh and though Jada is in love with Fresh, she doesn't seem too happy about new girl Ava's interest in Shamari. Kingpin Wifeys Season 3 will be the best yet.
Get Kingpin Wifeys Season 3 by K. Elliott at Amazon
Have you read this book or another by this author? Tell us about it in the comments!