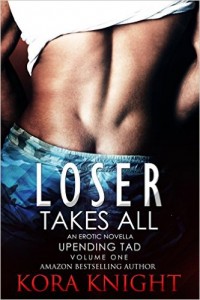 Steam:: Steam Level 5
Tad's weekend started out like any other; hitting a college frat party with a handful of buddies. But just as the evening hits its peak, things get up-ended fast. Ditched by his drunken, trolling friends, Tad winds up getting hustled by three jocks playing poker. Now he's forced to pay his dues in the most outlandish of ways; accepting a couple broken bones or spending an hour with his victors' favorite flogger, Scott. But the guy's tantalizing torture quickly proves to be the least of Tad's worries… and the kickoff to a night of raw, shocking lust.
Experience the graphic, minute-by-minute account of that hour spent at the hands of Tad's insatiable tormentor. Addicting chemistry lights the stage as Scott ignites Tad's reluctant desires into a frenzy of forbidden need.
Warning: contains explicit gay sex.
Excerpt for adults only:
Tad could feel his jaw ticking, even as his cheeks reheated. "Fine." He shucked off everything but his boxers, then glared at the obstacle looming in front of him. "What the hell is this thing, anyway?"
"My roommate and I have lovingly coined it: the Wall of Confliction."
Tad quirked a brow. "You seriously call it that?"
Scott's tone turned wry. "We most certainly do."
"Why the fuck for?"
"Mm. That'd spoil the surprise."
"Whatever," Tad scowled, still not facing the guy. But the sound of feet padding closer had his blood pressure climbing fast. Not that his heart wasn't already pounding.
"Boxers, too, Tad," Scott murmured in his ear. "I'm to give you the full-body treatment."
Tad groaned. Even his ass was going to get whipped? Cursing under his breath, he ditched the last of his clothes. "There. Happy?"
A low, dark chuckle. "Oh, shy boy, you have no idea."
"Stop calling me that."
"Stop playing the part."
Tad bristled, but then stiffened as Scott took his wrist and lifted it up… to a buckle restraint attached to a resin-coated chain. It must've been tucked in the wall's upper right corner. Swiftly, Scott secured it into place.
Tad struggled not to freak out. "Is this really necessary? I agreed not to leave."
"It's necessary," Scott assured, doing the same with his other arm. He dropped into a squat to hit Tad's ankles next, firmly easing them apart.
"For shit's sake," Tad groused. "My fucking feet, too?"
"Mm Hmm."
Tad glowered, even as his heart rate rose to jackhammer status.
Ankles secured, Scott made a satisfied sound. Like a deep purr of pure male appreciation. Tad stilled, not sure how he felt about that… or the big palms now moving up the back of his legs.
What format is this book in? eBook
Have you read this book or another by this author? Tell us about it in the comments!