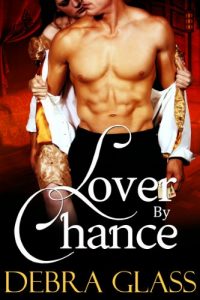 Steam: Steam Level 4
Mississippi riverboat gambler, Jedidiah Nash, knows he's a scheming bastard. After defeating Richard Laurent at cards, the two come to a scandalous agreement. The stakes? Laurent's wife for one night.
Jed has no intention of bedding the married Creole beauty. Instead, he expects to part her from the rest of Laurent's money in exchange for her virtue.
Angry at her abusive husband for gambling her away, Elena Laurent concocts a scheme of her own. And after one night in a stranger's arms, she might just be playing for keeps.
Get Lover by Chance by Debra Glass at Amazon
Have you read this book or another by this author? Tell us about it in the comments!