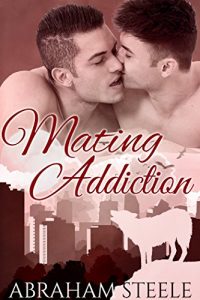 Steam: Steam Level 5
"Either fuck me, suck me, or get the hell out of my apartment."
Disowned by his family, cut off from his pack, Raymond Fusco lives for the next conquest. And he's definitely making one tonight. There's no way he's going to close off the weekend without pumping his cum into a hot, willing asshole. Any of the anonymous guys messaging him will do. The young alpha's standards aren't exactly high – there's no point when he's only going to see them once. The new guy who just emailed him stands out, though. Not only does Diago have a gorgeous face and cock, his way with words is also intriguing. Why would he refer to Grindr as an "agency"?
A week after breaking up with his first and only boyfriend, Diago Ayling has finally heard back from the Fated Date Agency. The lovelorn omega just got his heart stomped on, and now he's ready to find the real thing: his fated mate. Even though Raymond told him to come straight to his place, Diago is picturing flowers and candlelight for their first date.
Diago is about to get a whole lot more than he bargained for. Then again – so is Raymond…
Mating Addiction is Book 5 of the Fated Date Agency series. It also stands alone as a complete 200-page gay shifter mpreg romance novel.
Guaranteed HEA ending with no cheating and no cliffhangers!
Get Mating Addiction (Fated Date Agency Book 5) by Abraham Steele at Amazon
Have you read this book or another by this author? Tell us about it in the comments!