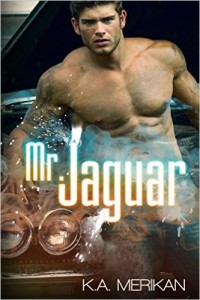 Steam:: Steam Level 4
— One day you'll be pumping my gas —
Mike Miller's life has gone to shit. The formerly popular high school quarterback now works at a gas station in the middle of nowhere. The last thing he needs is meeting the guy he used to bully at school and seeing him all sorts of polished up. James is now the proud owner of an amazing silver Jaguar and a self-made millionaire. It seems that the day couldn't get any worse for Mike, but James 'Lovelace' Austin might just turn out to be his golden ticket out of the job he hates.
When James Austin meets Mike Miller, his high school crush and tormentor all in one, working at an old, dirty gas station, it feels as if the stars have finally aligned in his favor. He wants to finally get his revenge on the guy, but when Mike turns out to be gay, the whole afternoon takes a turn for the surreal. Instead of just humiliating Mike at his workplace, James decides to hire him for a weekend at a conference he's attending. A hot guy by his side is the only accessory James needs to rub his success in the faces of his frenemies.
Only problem is, a gay Mike Miller might be too much of a blast from the past than James ever expected. If James wants his nerdy heart safe from the hunky jock, he needs to keep Mike at arms length. The task would be a lot easier if Mike wasn't unashamedly hitting on James. Or is it just James's money Mike is after?
POSSIBLE SPOILERS:
Themes: cinderfella, enemies to lovers, escort, bullying, jock/nerd, mechanic, millionaire, old flame, high school crush
Genre: contemporary m/m romance
Erotic content: explicit m/m sex scenes
Length: ~ 33.000 words
Get Mr. Jaguar at Amazon
Get Mr. Jaguar at Barnes and Noble
What format is this book in? eBook
Have you read this book or another by this author? Tell us about it in the comments!