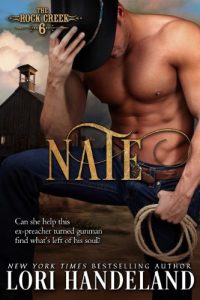 Steam: Steam Level 4
Nominated for Best Western Romance of the Year by Romantic Times!
If you liked the Magnificent Seven, you'll love the Rock Creek Six!
Six elite Confederate soldiers band together after the War Between the States, hiring out their guns to protect lawless towns. Violence is all they know, until they make their way to Rock Creek, Texas.
Nate Lang is a preacher turned gunfighter. Not one of the men who rides at his side knows what turned Nate from God to the gun and then the bottle. None of them ask. They all have their secrets, and Nate deserves his.
Jo Clancy, daughter of the disgraced Rock Creek reverend, has loved Nate from the moment she met him. When others give up, Jo is always there, determined to show him that life is worth living and love is worth anything.
When Nate doesn't return from a job in Mexico, Jo fears the worst and travels there alone to find him. Upon their return to Rock Creek, circumstances lead to a marriage of convenience. Together they minister to the people of the town. Is a new life enough to draw Nate away from his darkness? Will he ever see the light?
Nate is the fifth book in the six book Rock Creek Six series, written alternately by RITA Award Winning and New York Times Bestselling authors, Lori Handeland and Linda Winstead Jones. If you enjoyed the movie "The Magnificent Seven" or the novels of Linda Lael Miller and Jodi Thomas, give The Rock Creek Six a try!
Get Nate (The Rock Creek Six Book 5) by Lori Handeland at Amazon
Have you read this book or another by this author? Tell us about it in the comments!