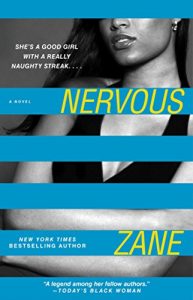 Steam: Steam Level 4
In this follow-up to the mega-sensation Addicted and the lead-in to the highly-anticipated upcoming novel, Vengeance (available May 24, 2016) , the New York Times bestselling Queen of Erotica delivers a shocking and steamy story about a woman with a split personality who must overcome her disorder before her chance at a happy ending is forever destroyed.
Jonquinette Pierce has never felt comfortable around men—except when she's her alter ago, Jude, who takes over on the weekends to lead a life of wild and intense sexual escapades. Jonquinette knows she can't keep living like this and sets out to overcome her split personality with the help of Dr. Marcella Spencer.
But Jude isn't about to let Jonquinette off so easily. Just as Jonquinette begins falling for her hot neighbor, Mason, Jude decides she's had enough and goes on a sexual rampage to keep her alter ego from riding off into the sunset.
Nervous takes readers back into the world of Addicted and keeps them hooked until the very end.
Get Nervous by Zane at Amazon
Get Audiobook
Have you read this book or another by this author? Tell us about it in the comments!