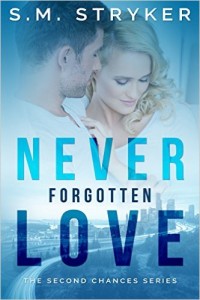 Steam:: Steam Level 4
In this mature romance about lost loves, best friends and second chances author S.M. Stryker brings you the first installment of the Second Chances Series.
Beckett was smaller than most boys his age growing up. This caused him to have little to no self-esteem while faced with the physical abuse he endured at the hands of his mother.
His best friend Harlow, who's not only beautiful, but tough as nails has been there for him since first grade.
Unforeseen circumstances separated them with promises of always keeping in touch. Reminders of a friendship left behind, possessions taken away only lead to a friendship that was once the center of Beckett's world.
Ten years later, Beckett has the confidence and self-esteem to search for Harlow. The only problem is, she's off the grid. Every day he thinks of her; every decision he's made has been for her.
Get Never Forgotten Love at Amazon
What format is this book in? eBook, Print Book
Have you read this book or another by this author? Tell us about it in the comments!