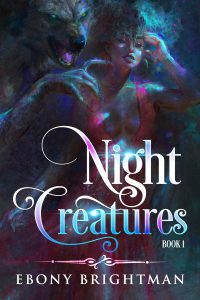 Steam Level: Steam Level 4
Category: Paranormal Mystery Romance
About Night Creatures: Book 1:
An elite Hollywood soiree. A cheating husband. A carnal encounter in the woods… It's been a hell of a Friday, and the weekend has only just started.
For years, Nisa has secretly improved her husband's screenplays. So when powerful movie producers invite them to an exclusive weekend getaway, it could be his big break. Too bad even big breaks can't curb his philandering.
Nisa races to catch him in the act, but when she stumbles upon a savage creature, it's a race for her life instead. Her struggle to survive uncovers pleasure unimaginable, and the strength to no longer live in her husband's shadow.
By Sunday she'll have a choice to make. Stay with the devil she's always known? Or follow her heart, possibly into disaster?
Links to Purchase eBooks
Link To Buy Night Creatures: Book 1 On Amazon

Disclaimer: All information for this book was submitted by the author and is presented as is so you get to know the author and their style. Prices are subject to change.