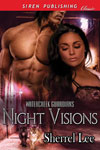 Steam Level: Steam Level 5
Category: Paranormal Mystery Romance
About Night Visions:
[Siren Classic: Erotic Paranormal Romance, shape-shifters, HEA] Violent visions, murdered women, and the hunt for a killer…Detective Dae Kelly refuses to believe visions and shape-shifters are real, even when she sees the crimes occur in her dreams. Night Guardian, Leopold Cheveyo, a Watercreek Tribal Council Investigator, is assigned to partner with Dae to hunt for the killer. They must track down the murderer, a hybrid shape-shifter driven mad by the two spirits that inhabit his body, the spirits that shield him from detection by the night guardians. Hurt too many times in the past, Dae is drawn to Leo and wants to touch and taste.Even as she believes she is fated to never find love and tries desperately to ignore her desires. Bewildered, she finds she can't stop wanting him, needing him, and craving his skilled touch in bed. ** A Siren Erotic Romance
Purchase Print Books
Buy Night Visions Print Edition at Amazon
Buy Night Visions Print book for sale on Book Strand
Links to Purchase eBooks
Link To Buy Night Visions On Amazon
Link to Night Visions eBook for sale on Book Strand

Disclaimer: All information for this book was submitted by the author and is presented as is so you get to know the author and their style. Prices are subject to change.