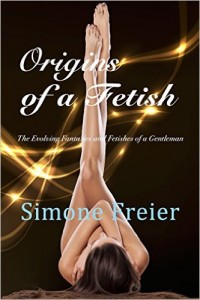 Steam:: Steam Level 5
Beyond 50 Shades … Way Beyond!
ORIGINS OF A FETISH is an intimate exploration of one man's kinks and fetishes, with thoughtful and philosophical discussion by the characters, and graphic descriptions of their erotic adventures.
Sam has enjoyed a life of success and worldly experiences, shared with the wife he adores. But he has harbored fantasies and fetishes morphed from childhood incidents, which are now a deep part of his psyche. As the Internet accelerated Sam's education of the fetish world, his desires outpaced his ability to satisfy his cravings. Then, tragedy strikes. Sam must now redefine his priorities and his life. He seeks a way to fulfill his deepest needs. To share intimacy, openness, and trust with a younger woman. And to introduce her to new experiences of the submissive kind.
The Experiences series is an epic love story of erotic relationships and sexual desires. Written in a 'literary realism' style, the series introduces Sam in the prequel, and the blossoming of his intimate relationship with Kelly as the series progresses. Fantasies and real-world adventures coalesce to mold a unique bond between unlikely lovers. Where needs are mutually satisfied in an open, creative and trusting environment. Where physical and mental boundaries are pushed. Where the concepts of love and sex are never confused, but sometimes confusing. Where openness is required and intimacy is expected. And where fair-is-fair, regarding the punishment of transgressions.
Contemporary erotic romance: Suitable for mature readers, aged 18+ years.
Experiences: Book 1 is the prequel to the story of Kelly. 26,800 words, 7 chapters, 101 print pages.
Acclaim from reviewers:
"Erotic, sexy, imaginative, and descriptive"
"It's a very fascinating read"
"The dialog in this book is top notch; it flows perfectly"
"Origins of a Fetish is well written, fast paced, and a true page turner"
"After reading Origins of a Fetish, I truly wanted more."
"An extremely sexy novel that is filled with substance"
"Will leave you questioning your own beliefs on sex"
"It's a novel that takes you on a journey"
"The writing is excellent and the story moves seamlessly"
"Freier delivers an unforgettable sexy, erotic novel that is sure to keep you wanting more"
"The writing is smooth … well thought out and presented"
"There's a real story here that keeps you interested and ready to turn the page"
"This book had solid writing"
"Far more interesting from a story-based perspective than one might expect from the average erotic novel"
"Simone Freier, unlike other erotica writers, uses restraint to make her writing much more sensual"
"If you enjoy erotic fiction, I would highly recommend Origins of a Fetish"
WARNING!
This work contains mature content, including graphic sexual descriptions and scenes, and is provided for adults only. The Experiences series contains scenes of psychological and physical submission, discipline, and medical fetish. The characters explore various fetishes, which evolve throughout the series. ALL CHARACTERS IN THE BOOK ARE 21 YEARS OLD OR OLDER, and all activities are consensual.
Don't delay, get your copy today!
Get Origins of a Fetish at Amazon
Get Origins of a Fetish at Barnes and Noble
What format is this book in? eBook, Print Book
Have you read this book or another by this author? Tell us about it in the comments!