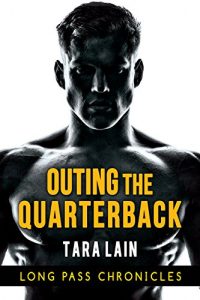 Steam: Steam Level 4
A Novel in the Long Pass Chronicles
Will Ashford lives in two closets. He meets his wealthy father's goals as both the quarterback for the famous SCU football team and a business major, but secretly he attends art school and longs to live as a painter. And he's gay. But if he can win the coveted Milton Scholarship for art, he'll be able to break from his father at the end of his senior year.
In a painting master class, Will meets his divergent opposite, Noah Zajack. A scarred orphan who's slept on park benches and eaten from trash cans, Noah carefully plans his life and multiple jobs so he has money and time to go to art school. Will's problems seem like nothing compared to Noah's. Noah wants the scholarship too and may have a way to get it since the teacher of his class has designs on him, a plan Will isn't happy about.
Get Outing the Quarterback (The Long Pass Chronicles Book 1) by Tara Lain at Amazon
Get Audiobook
Have you read this book or another by this author? Tell us about it in the comments!