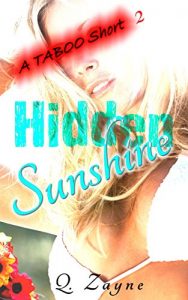 Steam Level 5
Forbidden-passion erotica for MATURE readers only!
I shouldn't have teased the billionaire man of the house. But I didn't mean for anything bad to happen. I just wanted that tender, kind-eyed, powerful, hunky man to belong to me. I wanted to be his in the deepest way.
I wasn't prepared for how dangerous secrets can be.
Please Note: This story takes up where Secret Sunshine ended. You can read Hidden Sunshine on its own, but will enjoy it more after reading the first story about Sloane and her taboo desire. This novelette is erotica, not romance. To be clear, this is a dirty book. It's about 14,000 words long, the length of two or three short stories, and almost three times longer than Secret Sunshine.
Hidden Sunshine — A Taboo Short 2 is rated Mature 18+ for sexual content, language and adult themes. All characters are unrelated consenting adults. It's BDSM in the sense of role play and power play, with a mild dominant – submissive dynamic. There's no punishment, spanking, bondage, name-calling or kinky toys involved. This is one-on-one forbidden love with no cheating. Contents may be triggering for some readers.
This story is dedicated to the readers who reviewed Secret Sunshine and asked for more. It's longer than my first Taboo Short by request. See how powerful you are! 🙂
Enjoy!
Q.
DCMA protected
What format is this book in? eBook
Have you read this book or another by this author? Tell us about it in the comments!