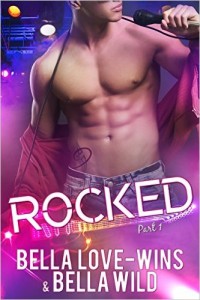 Steam:: Steam Level 4
This book is free.
Rock star billionaire Johnny Q Venom would rather be writing songs and performing for small audiences than flying across the globe for concerts and celebrity appearances. The man knows exactly what he wants…to possess Amanda Baker completely. For over three years, Johnny has followed Amanda's rise and fall as female wrestler Roxy Punisher. And now that the time is right, he will pull out all the stops to finally have her. Can he break down Amanda's emotional defenses and win her over?
Forced to retire from her passion of female MMA wrestling in her early twenties, full-time security guard Amanda Baker gets the opportunity of a lifetime — to be the personal bodyguard of multi-platinum rockstar Johnny Q Venom. And for more money that she has ever seen. What Amanda doesn't know is her new employer has secretly been her biggest fan for years. Will the handsome billionaire be her model boss, or will their sizzling attraction to each other cause her more problems than it's worth?
What format is this book in? eBook
Have you read this book or another by this author? Tell us about it in the comments!