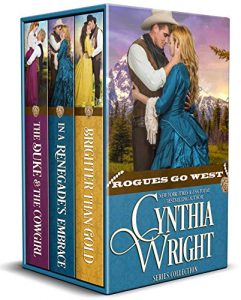 Steam: Steam Level 4
Travel back to the American West with New York Times Bestselling Author Cynthia Wright, and discover adventure, magic, and passionate romance when Rogues Go West…
BRIGHTER THAN GOLD
In 1864 Columbia, California, spirited Katie McKenzie writes newspaper articles about the Griffin, a Robin Hood-style highwayman who robs from the unscrupulous mine owners and gives back to the townspeople. When roguish Jack Adams, an adventurer with a secret, rides into town one sleepy afternoon, Katie's life is changed forever.
IN A RENEGADE'S EMBRACE
Fox Matthews, a recent survivor of Little Bighorn, is in no mood for love, but when he meets proper Madeleine Avery in rollicking 1876 Deadwood, South Dakota, passion kindles in spite of the obstacles between them. As cultures collide between new settlers and the Lakota people, Fox and Maddie discover the secrets of their own hearts.
THE DUKE & THE COWGIRL
"An English Duke and a woman from the Wild West – that's a combination you just can't beat!" says author Catherine Coulter. Join impetuous Shelby Matthews, daughter of Fox and Maddie, as she manages the family ranch in Cody, Wyoming and promptly loses half of it in a poker game to dashing Geoffrey Weston, an English nobleman who has traveled West in search of adventure.
Author's Note: These 3 full-length historical romances contain intimate, steamy love scenes.
Get Rogues Go West Boxed Set: Brighter than Gold, In a Renegade's Embrace, The Duke & the Cowgirl by Cynthia Wright at Amazon
Have you read this book or another by this author? Tell us about it in the comments!