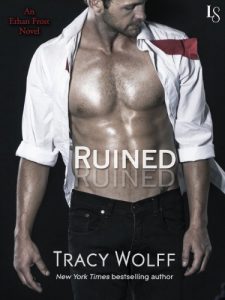 Steam: Steam Level 4
NEW YORK TIMES BESTSELLER • An electrifying journey of emotional and sexual discovery that pushes two damaged souls to their breaking point—and beyond
He's the last man Chloe Girard should love . . . but the first she ever could.
Ethan Frost is a visionary, a genius, every woman's deepest, darkest fantasy—even mine. And, somehow, I am his.
He stole into my life like a dream. Turned my reality upside down and made my every desire come true—especially those I never knew I had. He demanded everything I had to give and gave me everything of himself in return.
But dreams don't last forever, and ours is no exception. Because my nightmares are darker, and my wounds deeper, than I could ever reveal. And as much as Ethan wants to protect me, the secrets we share will only tear us apart.
Get Ruined: An Ethan Frost Novel by Tracy Wolff at Amazon
Get Audiobook
Have you read this book or another by this author? Tell us about it in the comments!