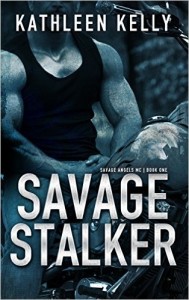 Steam:: Steam Level 4
"Rock Goddess Meets President of MC Club" ~ Jan, Goodreads Reviewer
"Rockers and Bikers! It was hot, mysterious suspenseful and edgy." ~ Diane, Goodreads Reviewer
"Off the charts love story filled with action and suspense" ~ Bec, Goodreads Reviewer
Katarina Saunders. Kat to the world, international rock star. Lead singer for The Grinders.
Until she has an accident that ruins her career and sends her running into the mountains, away from everything and everyone.
Dane Reynolds, President of the Savage Angels MC. Fierce, strong and loyal. He's had his eye on Kat for a while now and has been waiting for her to come to him but he's had enough of waiting. He's decided it's time to make her his.
But so has her Stalker, he's been waiting for far too long…
Can Dane save Kat? Or will her savage stalker get to her first?
Next In The Series:
Savage Fire #2
Savage Town #3
Savage Lover #4 – Coming early 2016
Get Savage Stalker at Amazon
What format is this book in? eBook
Have you read this book or another by this author? Tell us about it in the comments!