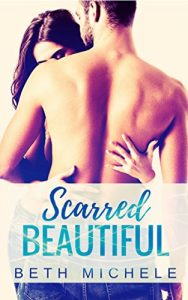 Steam: Steam Level 4
From the start, Fran Heller rubbed Matt Dixon the wrong way.
With her snarky attitude and witty sarcasm, she came on too strong for his tastes. But there was no denying the hidden spark that ignited from the first moment they met, or how she began to invade his every thought. It was hard to ignore her curvy body and the way she oozed sexuality. But the more time Matt spent with Fran, the more he discovered that behind that feisty spirit, was a girl with a story.
And he intended to find out what it was.
**A new adult romance emotional, dirty emotional romance, and emotional second chance. A Standalone Novel. 18+ for language and mature sexual content**
Get Scarred Beautiful by Beth Michele at Amazon
Have you read this book or another by this author? Tell us about it in the comments!