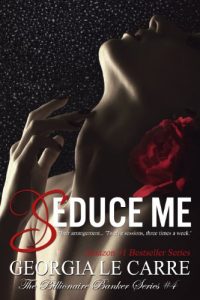 Steam: Steam Level 5
Book # 4, Seduce me, the billionaire banker series.
–
All through her young life, Julie Sugar has dreamed of only one man, but he has had eyes only for another. When Julie receives an invitation to be one of the bridesmaids at the wedding of her old school friend, Lana Bloom, she cannot pass the opportunity of seeing him again, even if it means she must conceal a shocking secret from her friend.
When things don't work out as she planned, the mysterious and breathtakingly handsome Vann Wolfe, offers her hope of the most surprising kind: private lessons in the art of seduction with him.
Twelve sessions, three times a week.
But just who is seducing who?
Get Seduce Me (Billionaire Banker Series Book 4) by Georgia Le Carre at Amazon
Have you read this book or another by this author? Tell us about it in the comments!