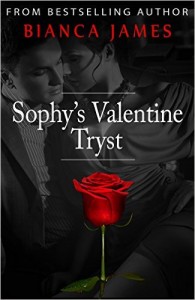 Steam:: Steam Level 4
The steamy conclusion to the Amazon Top 10 Bestselling "Awakening Sophy" series
*** It's Valentine's Day and there's nobody who deserves a sexier one that Sophy ***
Even if you've not read the other books in the series, this one is written as a standalone for those wanting to enjoy a raunchy Valentine's Day read.
For those who have, you've followed her adventures from the beginning and enjoyed each and every one of them, have you ever wondered if Sophy found true love and with whom?
Now is your chance to find out in this special Valentine's Day story that will answer all your questions and get your Kindle burning.
Start reading Sophy's Valentine Tryst now and find out why readers and reviewers alike are talking about Bianca James
"Grab your favorite naughty girl drink and slip into this series." – Deliciously Wicked Books
"Intelligent, Hot, Believable." – MsRomanticReads
"A good general recommend for erotica readers. A sweet ending too, with a dash of mystery. Very nicely done here, and a little gem of a book to pick up and read this week." E-Read Erotica Reviews
"This story has everything you want to make your panties wet and your heart melt." – Jessica
Recommended for 18+ due to mature themes and explicit sexual content
Get Sophy's Valentine Tryst at Amazon
What format is this book in? eBook
Have you read this book or another by this author? Tell us about it in the comments!