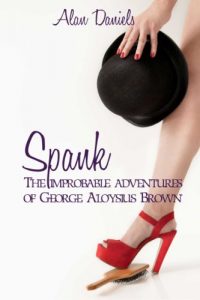 Steam: Steam Level 5
Apart from their mutual love of spanking, it's an unlikely pairing, to say the least: Catherine Mallory Jones, a stunning aspiring poet and romance writer with a dark sexual past. And George Aloysius Brown, a witty and endearing Londoner, whose idyllic, white picket fence life was shattered with the end of his marriage to a woman he adored. Were it not for their passion for the written word, their paths would never have crossed.
But when George is challenged by his writing teacher to push beyond the boundaries of the familiar into the world of erotica, their two paths converge as they seek to explore and expand their literary and sexual horizons. Inspired by his ex-wife's love of spanking, and Catherine's similar desires, the two writers journey into a bizarre often hilarious sexual underworld.
From the adult filmmakers who clearly get more of a kick out of the audition process than from actually making the films, the wheelchair dominatrix who crafts bejewelled canes for the Hollywood set, to the 'over-enthusiastic' vendors at fetish conventions, and the real person behind the sultry voice of a phone sex line–Catherine and George soon discover that the 'real' world of the erotic is full of improbable adventures.
Get Spank: The Improbable Adventures of George Aloysius Brown by Alan Daniels at Amazon
Have you read this book or another by this author? Tell us about it in the comments!