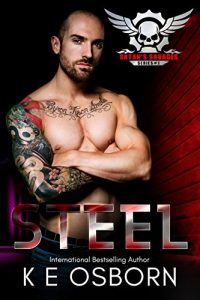 Steam: Steam Level 4
My name is Steel.
A Marauder Japanese Steel Knife is my weapon of choice.
I'm a hard-core, callous, biker in the Satan's Savages MC.
I wasn't meant to fall for someone like her.
My name is Willow.
I'm a kindergarten teacher.
I'm kind and gentle, but I'm sick of living the simple life.
I need something different.
She is sassy.
He is cocky.
They are drawn together by fate.
But together they could lose it all.
Willow isn't meant for my world. So when she's thrust into it, can she accept who I am? Will my brothers welcome her as a part of the brotherhood? Or will I have to protect her from the brothers I've grown to love?
Get Steel (Satan's Savages MC Series Book 1) by K E Osborn at Amazon
Have you read this book or another by this author? Tell us about it in the comments!