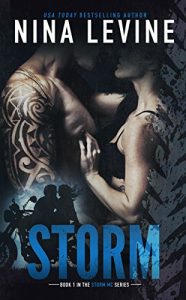 Steam: Steam Level 4
Dirty talking biker alert…
These bikers go hard and love even harder.
WARNING: The Storm MC are addictive.
Madison Cole's family is the Storm Motorcycle Club. Her father is the President and her brother is the VP. She grew up surrounded by bikers, crime and violence. Two years ago she walked away from her family and the world they live in. Her soul was shattered, her heart was broken and she had an addiction she couldn't shake. She picked up the pieces and put herself back together. Now her family wants her back. The club is being threatened and they send a club member to return her home to safety–the one person that could destroy everything she has worked so hard to build.
Jason Reilly has sacrificed a lot for the motorcycle club he calls family. Two years ago he made the biggest sacrifice of all–he gave up the woman he loved for them. Now he is being sent to bring her back and he is conflicted. He thought he was over her but discovers their connection is as strong as ever. Their love was all-consuming, passionate and fiery. It was also their undoing and he doesn't know if either of them is strong enough to battle the demons that ripped them apart, to find love again.
Madison and Jason are brought back together by a force out of their control, one that pushes them to a breaking point. Can they overcome their past and discover a love worth fighting for or will the harsh reality of their world finally and completely break them both?
This story contains all the panty-melting sexiness and alpha goodness that Nina Levine books are known for.
Motorcycle Club Romance
Get Storm (Storm MC #1) by Nina Levine at Amazon
Have you read this book or another by this author? Tell us about it in the comments!