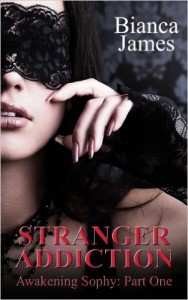 Steam:: Steam Level 5
A Hot, Sexy and Addictive Story from Amazon Best Selling Author Bianca James
Is it wise to share dark, erotic fantasies with a total stranger?
Sophy thought it was – Until she found herself blindfolded in a candlelit bedroom with a mysterious stranger approaching, very slowly, up the stairs.
Now it's too late. He's coming and he knows every sordid detail of her dirty little fantasy.
The pretty, yet demure Sophy is about to be awakened in a way she could never have imagined.
A compelling, sex charged, addictive and highly erotic short story which will leave you breathless for the next installment.
Start reading this exciting series now and find out why readers and reviewers alike are talking about Bianca James
** Warning: This highly erotic, 10,000 word story, is suitable for adults only (18+) as it contains many explicit sex scenes between consenting adults, sex fantasies, graphic language, elements of BDSM, oral sex, spanking, rough sex and anal play **
Get Stranger Addiction at Amazon
What format is this book in? eBook
Have you read this book or another by this author? Tell us about it in the comments!