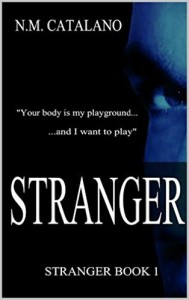 Steam:: Steam Level 5
**Re-edited, re-released**
I couldn't resist submitting to him. I still can't, no matter the cost.
I thought I was fine, I thought my life was ok. Until I met him. One night of erotic abandon blew open the door to the prison of my life and there was no way I wanted to lock it back up. I couldn't, not when he kept coming back. But I knew there would be a price to pay. There always is, I had been warned. The past always comes back to haunt you especially when it promised it would.
Your body is my playground and I want to play.
Life is good. I have control, I like having control. Until I met her. I thought that one night of her deliciousness would be enough to satisfy me. I was wrong. I wanted more, there was something about her, she was different. And now I was losing control, there was no way in hell I was going to lose.
** This is book is meant to be read as a stand alone but is the first book in the STRANGER series. No cliffhangers.
**Disclaimer: explicit sex scenes, be prepared to sweat and your heart rate to accelerate, intended for mature readers.**
Get Stranger at Amazon
Get Stranger at Barnes and Noble
What format is this book in? eBook, Print Book
Have you read this book or another by this author? Tell us about it in the comments!