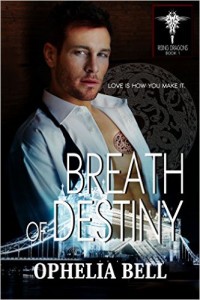 Steam:: Steam Level 4
The Dragons have Risen
Erika Rosencrans has accomplished her life's dream: proving that dragons exist. Now she only wants to share her life with the amazing red dragon, Geva, and hunt down more lost ancient temples while exploring her dragon lover's vast sexual appetite.
Geva, a member of the dragon queen's Court has two desires: to make Erika happy and to convince the adventurous woman to stay put long enough to bear his child.
In the process of exploring his dead mother's journals, Geva and Erika discover a secret his parents kept that could change the lives of all dragons. But in order uncover the details of the secret and get what they both want, the two lovers must compromise.
Breath of Destiny is the first episode in a series of novellas that include all kinds of fun kinks involving shapeshifting mythical beasts who breathe magic smoke and have very long, prehensile tongues. It is intended for adult audiences.
Breath of Destiny begins a new series in the lives of Erika and her team and their dragon lovers. If you missed the first series, look for the box set, Sleeping Dragons Omnibus.
Titles Available in the Rising Dragons Series
Rising Dragons Prequel: Night Fire
Rising Dragons 1: Breath of Destiny
Rising Dragons 2: Breath of Memory
Rising Dragons 3: Breath of Innocence
Rising Dragons 4: Breath of Desire
Rising Dragons 5: Breath of Love
Rising Dragons 6: Breath of Flame & Shadow
Rising Dragons 7: Breath of Fate
Get Breath of Destiny at Amazon
What format is this book in? eBook
Have you read this book or another by this author? Tell us about it in the comments!